Welcome to GTV Resort, Bandhavgarh National Park
Hotels in Bandhavgarh
Lodges in Bandhavgarh
Resorts in Bandhavgarh
All Information about bandhavgarh.
Hotels Tariff Bandhavgarh National Park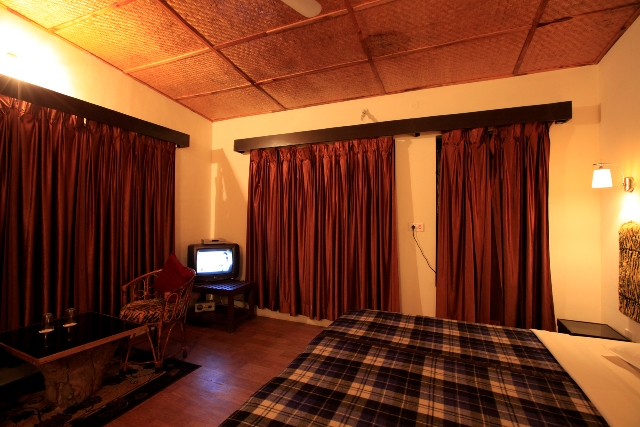 Golbro Tiger View Resort, Bandhavgarh National Park provides you to be ready to enjoy in one of the finest and fully contained wildlife Hotel/Lodge/Resort in central M.P., India. Bandhavgarh is a paradise on Earth that nurtures nature in its womb, and what better, it is the home of the Indian Royal Bengal Tigers, in the paradise of Tigers. Enjoy the warmth of our hospitality on wildlife tour in the Central India Preserve.
We offer stay in luxury cottages that reflect Imperial taste and Royal splendor. Spend your holidays in comfort with luxurious facilities. The vast spread of our lush green lawn is your garden at Bandhavgarh.
The surroundings, Bamboos and Sal Trees, home to wild animals, birds and Tigers. When you step into luxurious Golbro Tiger View Resort, Bandhavgarh the World is real!
You are stepping into jungle camp in Bandhavgarh that is waiting for you. Golbro Tiger View Resort, Bandhavgarh is an eco friendly Hotel/Lodge/Resort is situated right next to the park, in the confines of the dense forest canopy. We offer the best in lodging and gastronomical delights – Pure Vegetarian Indian Food. The lodge promises luxury, comfort, classic ambiance and modern amenities. What more! Your stay reassures that you are in a Heaven of Wildlife and also Homely Treatment with warmth hospitality.
The lodge befits its salubrious surroundings – tropical green wilderness, cheerful and full of life. Find Lodge/Hotel at Bandhavgarh National Park that's your dream - to be a one with nature. The amazing biodiversity of the park - wild cats, deer, birds and butterflies resides besides us - the Hotel compliments the surroundings.
There is vast information is waiting for you about Bandhavgarh at our Travel Desk.
This is the end of your search of Hotels in Bandhavgarh.
Mobile No. 094 2433 8319