Indore/Bhopal Bandhavgarh Tour. CLICK here to Call Mob. 08085 524 472
:: Find ~Indore/Bhopal Bandhavgarh Tour Packages. CLICK here to Call Mob. 08085 524 472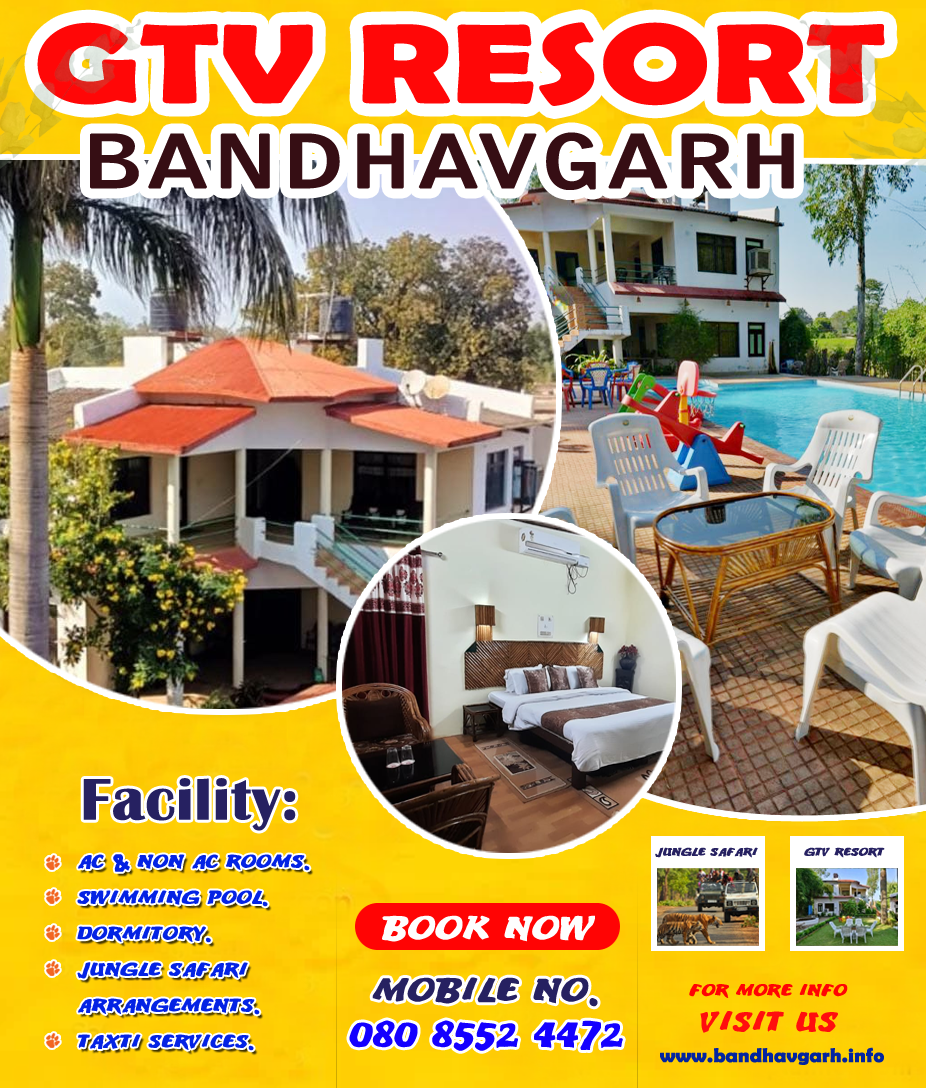 GTV Resort invites you on a tiger trail to -
Bandhavgarh - jungles of central India. The Jungle Book story was inspired from these forests. Sal and Bamboos forests of Bandhavgarh are known for their varied flora and fauna. A photographers delight - Bandhavgarh forest have been a subject of fascination. A 2 nights itinerary which includes accommodation, sumptuous food, 2 jungle Jeep safaris at Bandhavgarh, Pick up drop (On Extra Cost).
About Bandhavgarh
Immensely rich in game, Bandhavgarh has the distinction of harbouring the last of the highly endangered Hard Ground Bison. The vast size of the park makes extended explorations possible and Bandhavgarh is a favourite with photographers for its sheer quality of wildlife viewing. Tiger sightings are frequent and meadows abound with large herds of Chital and Sambhar. The park is also a good place to see the Leopard, Sloth Bear, Asiatic Wild Dog and Indian Bison.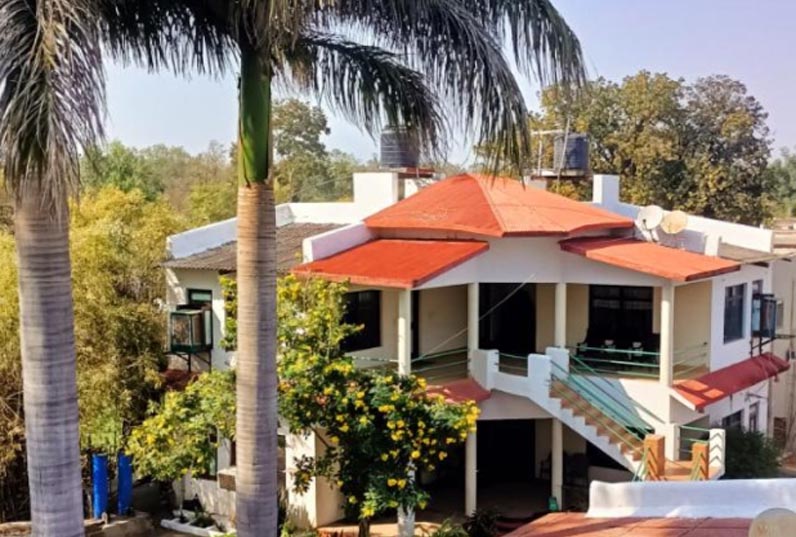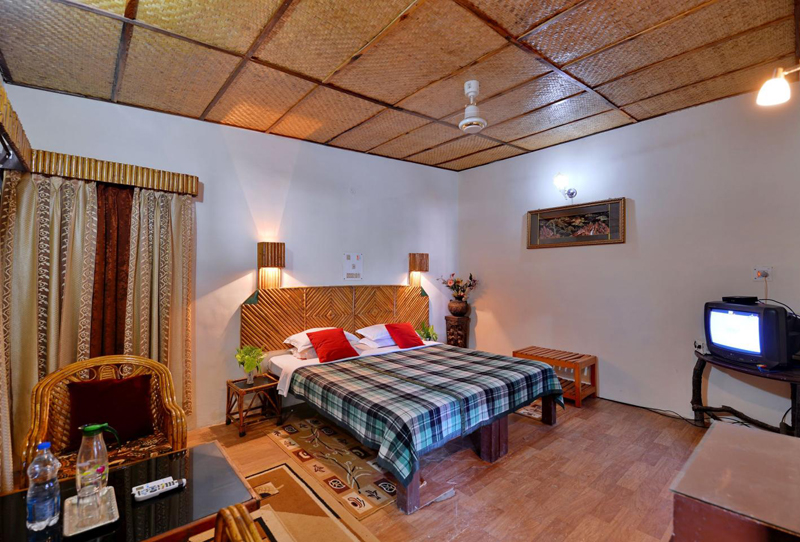 Tour Cost:
Rs. 4,000/- per person for 1 Night / 2 Days Pa>ckage.
Rs. 8,000/- per person for 2 Nights / 3 Days Package.
Rs. 12,000/- per person for 3 Nights / 4 Days Package.
(Rate is applicable only for a Group of Minimum 6 Persons or multiple).
Dormitory in Bandhavgarh is also available. Cost of Dormitory -
Non – AC Dormitory in Bandhavgarh (For 6 Peoples)
AC Dormitory in Bandhavgarh (For 6 Peoples)
Swimming Pool in Bandhavgarh is also available
GTV Resort Bandhavgarh have pool used mostly for exercise or recreation. GTV Resort has pool available for their guests to use at their leisure.
Resort has pool for physical exercise, recreational activities, leisure or party, pool is filled with clean water. Especially swimming pool is also used for children's because resort has a Baby Swimming Pool.
Toys are available for children and other people to play with in pool water. They are blown up with air so they are soft but still reasonably rugged, and can float in water.
In the swimming pools, dress code is there. A swimsuit should be worn. For men, wearing ordinary shorts and a tee shirt to go in the water may be considered acceptable, but pools usually require real swim suits or other dedicated water wear. Swimming with regular clothes on is not only unhygienic but can potentially weigh a swimmer down should he or she need to be rescued. Entire board shorts are not allowed for hygienic reasons. Swim suits are sometimes worn doubled up (one brief inside another) in case the outer suit tears on impact with the water.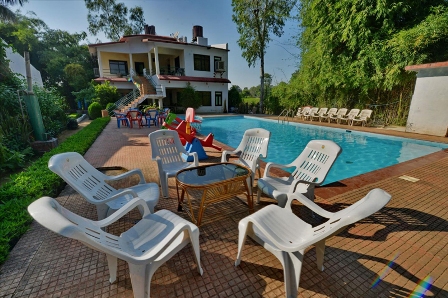 Inclusion:
One or Two Nights A.C. Accommodation (Double Share).
All meals (Bed Tea, Breakfast, Lunch, Evening tea with cookies and Dinner).
One or Two Jungle Jeep safaris.
Museum Visit.
Exclusion
Any item which is not mentioned in "Inclusion".
Portage.
Tips.
Any item of personal nature.
Group should be containing 6 members or more.
GST and Service Charge.
Tour cost Excluded:
Items which are not mentioned in the "Tour Cost Included".
Cancelation
100% Refund if booking cancelled before 45 days of arrival.
All subject to Rewa (M.P.) jurisdiction.
Booking: 08085 524 472 for booking CLICK here
Indore/Bhopal Bandhavgarh Tour. CLICK here to Call Mob. 08085 524 472
Budget Tour (Per Person)
INR 4000 / Person ( Group Size 6 Persons & children's b/w - 5 years are Free)
Inclusion (2 Nights)
INR 7999 / Person ( Group Size 6 Persons, 2N Stay, 2 Jeep Safari, All Meals)
Mobile No.
08085 524 472 for booking CLICK here
Safari Timings
Morning 6:00 AM - 11.00 AM | Evening 2:00 PM - 5:00 PM (Safari Timing Varies as Season Changes)
Guest Reviews
Rating: 4.9 - 63 votes
:: Find ~Indore/Bhopal Bandhavgarh Tour Packages
Guest Reviews Rated 4.9 / 5 based on 63 bookings
Good - 100 % of our customers recommend this

Indore/Bhopal Bandhavgarh National Park Tour Packages is the best and budget tour package and GTV Resort provide budget tour package in Bandhavgarh having very good swimming pool there and also book jungle jeep safari in Bandhavgarh for us which is included in budget tour package, highly recommended..." –T. Shrivastava, Indore
Read more reviews >>