Birding in Bandhavgarh
Find ~Birding Tour Bandhavgarh
Bandhavgarh has large species of rare and migratory birds. Know more about the common and rarest birds found in bandhavgarh wildlife sanctuary in India
Bandhavgarh has four species of vultures and another two hundred and fifty species of its winged breath the mighty Flyers – the Bird
Bandhavgarh National Park is also famous for bird watching. It has more than 250 bird species. The main bird species at bandhavgarh national park are white browed fantails, steppe eagles, green pigeons, grey malabar hornbills, black and white malabar hornbills (quite a rare sighting), blossom headed parakeets, parakeets, blue bearded bee eaters, green bee eaters, white bellied drongos, owls, Jerdon's and gold fronted leaf birds, minivets, woodshrikes and the lovely paradise flycatchers.
There are 250 bird species belonging to 53 families in Bandhavgarh National Park, India. Among them 138 are resident, 26 are local migrants and 86 are migrants. Bamera, Garhpuri, Majhauli, and Khitauli reservoirs with Rajbahera, Chakrdhara, Sheshsaiya, Bhitari are the best place to do birding in and around Bandhavgarh forest area. Among current 3 zones of Bandhavgarh Tiger Reserve, Magdhi and Khitauli zones are considered good for birdwatching.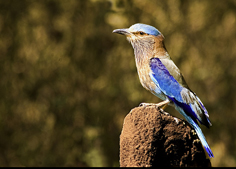 Bandhavgarh national park lacted in the Vindha Mountain Range of Central india. The national; park is urrounded by ancient hill which used to be ruled by Maharaj's of Rewa. The forest formation of Bandhavgarh national park is dominated by Sal and bamboos. The national park is famous all around the world for the wild tigers and is probably one of the best place to see wild tigers. The national park has got the highest population of tiger density in the world. there are around 250 species of birds recored at this national park. The only way to acces the national park is by jeep safaris and walking around is strictly prohibited. The park is closed for monsoons from july to october. Some of the good species of birds white napped woodpeckers, red junglefowl, red and painted spurfowl, long billed vultures. Not only these birds you can spot the variets of birds such as Oriental daeter, wolly neck strok, white eyed buzzard, changeable hawk eagle, bonelli's, steppe and grey headsed fish eagles, red headed vulture, creasted serpent eagles, ospery, eurasian hobby, painted francolin, jungle bush quail, barred buttonquail, sarus crane, eurasian thick knee, yellow wattled lapwing, chestnut bellied and painted francolin, jungle bushquail, barred buttonquail, oriental turtle, red collared and emerald doves, alexandrine and plim headed parakeets, pied, indian, grey bellied and drongo cuckoos, sirkeer malkoha collard scops owl, grey, indian and savanna night jars, crested treeswifts, strok billed kingfisher, indian grey hornbill, rufous streak throated and yellow crowned woodpeckers, indian bushlark, wire tailed swallows, brown and bay backed shrikes, white bellied and greater racket tailed drongos, chestnut tailed and brahminy starlings, large cuckooshrike, long tailed minivet, golden fronted leafbird, puff throated, Indian scimitar, tawny bellied and yellow eyed babblers, brown cheeked fulvetta, asian brown ultramarine, sulphur bellied dusky, hume's, brook's leaf and greenish warblers, siberian rubythroat, grey bushchat, blue capped and blue rocknuthatch and many more......... Along with the birds you can spot these wild animals at Bandhavgarh National Park tiger, chital, grey langur, flying fox, sambar, muntjac, wild boar, nilgai, chinkara, jackle, jungle cat, ruddy, sloth bear, black napped hare, indian fox, wolf, dhole, indian civet, Indian porcupine, honey badger, toddy cat and many more ....
Bird List at Bandhavgarh:
| | | | |
| --- | --- | --- | --- |
| 1. | Indian Peafowl | 47. | Black Redstart 48. Brahminy Starling |
| 2. | Plum Headed Parakeet | 48. | Brown Fish Owl |
| 3. | Orange Headed Thrush | 49. | Yellow Footed Green Pigeon |
| 4. | Coppersmith Barbet | 50. | Malabar Pied Hornbill |
| 5. | Common Myna | 51. | Common Kestrel |
| 6. | Alexandrine Parakeet | 52. | White Throated Fantail Flycatcher |
| 7. | Indian Grey Hornbill | 53. | Rufous Woodpecker |
| 8. | Rock Pigeon | 54. | Sapphire Flycatcher |
| 9. | House Crow | 55. | Changeable Hawk Eagle (Cirrhatus) |
| 10. | Carrion Crow | 56. | Oriental Turtle Dove |
| 11. | Little Egret | 57. | White Rumped Vulture |
| 12. | Cattle Egret | 58. | Lesser Kestrel |
| 13. | Great Egret | 59. | Large Cuckoo shrike |
| 14. | Black Drongo | 60. | Pied Bush chat |
| 15. | Pond Heron | 61. | Black Winged Cuckooshrike |
| 16. | Common Snipe | 62. | Black Rumped Flameback Woodpecker |
| 17. | Black Winged Stilt | 63. | House Sparrow |
| 18. | Red-wattled Lapwing | 64. | Golden Oriole |
| 19. | Greater Coucal | 65. | Rose Ringed Parakeet |
| 20. | Oriental Magpie Robin | 66. | Paddy Field Pipit |
| 21. | Indian Roller | 67. | Dusky Crag Martin |
| 22. | Indian Robin | 68. | Long Tailed Shrike |
| 23. | Eurasian Collared Dove | 69. | Black Ibis |
| 24. | Hoopoe | 70. | White Necked Stork |
| 25. | Sirkeer Malkoha | 71. | Purple Sunbird |
| 26. | Large Billed Crow | 72. | Giant Leaf bird |
| 27. | White Browed Fantail Flycatcher | 73. | Tickle's Flowerpecker |
| 28. | Yellow Crowned Woodpecker | 74. | Little Cormorant |
| 29. | Rufus Treepie (Normal And Pallida) | 75. | Little Brown Dove |
| 30. | Lesser Adjutant stork | 76. | White Tailed Swallow |
| 31. | Oriental White Eye | 77. | Jungle Babbler |
| 32. | Olive Backed Pipit | 78. | Shikra |
| 33. | Spotted Dove | 79. | Jungle Myna |
| 34. | White Throated Kingfisher | 80. | Common Tailorbird |
| 35. | Red Rumped Swallow | 81. | Red Collared Dove |
| 36. | Lesser Whistling Teal | 82. | Red Necked Vulture |
| 37. | Common Kingfisher | 83. | Painted Francolin |
| 38. | Black Stork | 84. | Eurasian Thick Knee |
| 39. | Green Bee-Eater | 85. | Common Sandpiper |
| 40. | Greater Racket Tailed Drongo | 86. | Lesser Spotted Eagle |
| 41. | Red Vented Bulbul | 87. | Greater Whistling Teal |
| 42. | Long Billed Vulture | 88. | Greater Cormorant |
| 43. | Grey Capped Pigmy Woodpecker | 89. | Pied Kingfisher |
| 44. | Brown Headed Barbet | 90. | Laughing dove |
| 45. | Chestnut Shouldered Petronia | 91. | Bonillo's Eagle |
| 46. | Crested Serpent Eagle | 92. | Dark Black Crow |
Birding Tour Packages Bandhavgarh
Budget Tour (Per Person)
INR 3500 / Person ( Group Size 6 Persons & children's b/w - 5 years are Free)
Inclusion (2 Nights)
INR 5999 / Person ( Group Size 6 Persons, 2N Stay, 2 Jeep Safari, All Meals)
Mobile No.
08085 524 472 for booking CLICK here
Safari Timings
Morning 6:00 AM - 11.00 AM | Evening 2:00 PM - 5:00 PM (Safari Timing Varies as Season Changes)
Guest Reviews
Rating: 4.9 - 557 votes
Find ~Birding Tour Bandhavgarh-
Guest Reviews Rated 4.9 / 5 based on 557 bookings
Good- 100 % of our customers recommend this
"Bandhavgarh has large species of rare and migratory birds. Know more about the common and rarest birds found in bandhavgarh wildlife sanctuary in India Bandhavgarh has four species of vultures and another two hundred and fifty species of its winged breath the mighty Flyers – the Bird, highly recommended..." -RK Bhai
Read more reviews >>