Tariff:
Best Jungle Resorts in Bandhavgarh National Park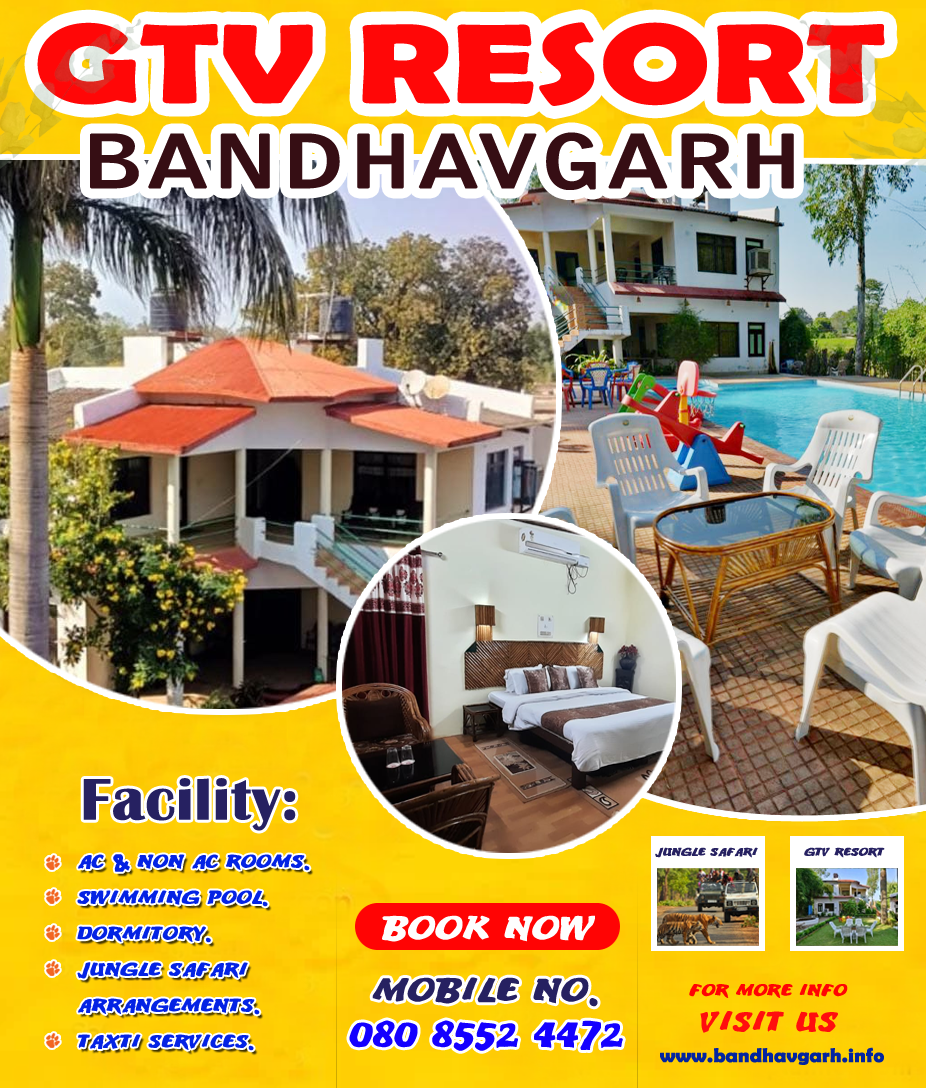 The Golbro Tiger View Resort is located close to the national park, just walking distance from main Tala gate of the Bandhavgarh Tiger Reserve. The Golbro Tiger View Resort is one of the places that can enjoy wildlife, charm and fascinate you at the same time. The resort is built with lowest interference to the natural environment of the forest and is managed on jungle principles. The most important aspect of a wildlife experience is the interpretation of nature and its habitat & Golbro Tiger View Resort participate fully in Nature conservation activities. GTV Resort is built in wildlife and jungle theme-based style.
Hotels and Resorts in Bandhavgarh
Your wildlife sightseeing and Jungle Safari tour in Bandhavgarh National Park will be very exciting and eventful at GTV Resort. Your stay too, should be as relaxing and enjoyable. You can stay at Golbro Tiger View Resort which is a budget resorts in Bandhavgarh that is equipped with all the necessary amenities to ensure that all your needs are met during your Bandhavgarh stay. GTV Resort is the budget hotels & resorts to select for stay, with is ready to offer you a unique experience. GTV resort differ from the other in terms of architecture and location, and offer an experience quite different from the others. The fabulous resorts combine the pleasure of leisure with adventure of the jungle Safari, even while you are treated to the spectacular views of the jungle. You get to enjoy all this even while being placed in the lap of comforts, thanks to the modern amenities along with Swimming Pool and also Snooker Pool present in the resort. Other reasons to book your stay at Golbro Tiger View Resort the budget
resort in Bandhavgarh are its serene ambiance and lovely lawn and garden. The airy cottages, lovely exteriors and proximity to the forest, is always a delightful choice with tourists. Book your cottage at Golbro Tiger View Resort which is budget hotels and enjoy your wildlife trip and Jungle Safari to Bandhavgarh National Park. Book your stay at the GTV Resort which is budget resorts in Bandhavgarh and make your trip exciting, Joyful and comfortable at Golbro Tiger View Resort Bandhavgarh National Park.
Best Jungle Resorts in Bandhavgarh National Park (Best Jungle Resorts in Bandhavgarh + Best Resorts in Bandhavgarh + Resorts in Bandhavgarh + Best Luxury Resort in Bandhavgarh + Resorts in Bandhavgarh National Park + Hotels and Resorts in Bandhavgarh)

Best Jungle Resorts in Bandhavgarh

No. of Nights
(In NO.)

Group Size Required for
Bandhavgarh Budget Tour Packages (in NO.)

Non AC Cottages

02

06 – 12 – 18 Persons

AC Cottages

02

06 – 12 – 18 Persons

Budget Cottages

01

06 – 12 – 18 Persons

Family Cottages

01

06 – 12 – 18 Persons
Mobile No. 094 2433 8319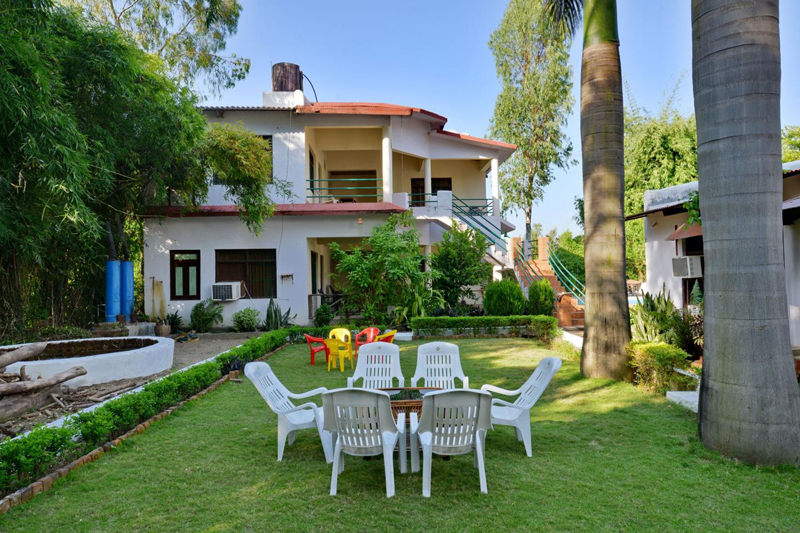 Best Jungle Resorts in Bandhavgarh National Park
Budget Tour (Per Person)
INR 3500 / Person ( Group Size 6 Persons & children's b/w - 5 years are Free)
Inclusion (2 Nights)
INR 5999 / Person ( Group Size 6 Persons, 2N Stay, 2 Jeep Safari, All Meals)
Mobile No.
08085 524 472 for booking CLICK here
Safari Timings
Morning 6:00 AM - 11.00 AM | Evening 2:00 PM - 5:00 PM (Safari Timing Varies as Season Changes)
Guest Reviews
Rating: 4.9 - 168 votes
Tariff Bandhavgarh -
Guest Reviews Rated 4.9 / 5 based on 168 reviews
good - 100 % of our customers recommend this hotel

"When we were searching for Lodge Bandhavgarh, Hotel Bandhavgarh, Resort Bandhavgarh, Lodge Bandhavgarh National Park, Hotel Bandhavgarh National Park, Resort Bandhavgarh National Park, Lodge in Bandhavgarh, Hotel in Bandhavgarh, Resort in Bandhavgarh, Lodge in Bandhavgarh National Park, Hotel in Bandhavgarh National Park, Resort in Bandhavgarh National Park, Lodges Bandhavgarh, Hotels Bandhavgarh, Resorts Bandhavgarh, Lodges Bandhavgarh National Park, Hotels Bandhavgarh National Park, Resorts Bandhavgarh National Park, Jungle Jeep Safari Bandhavgarh, Jungle Jeep Safari Bandhavgarh National Park, Jeep Safari Bandhavgarh, Jeep Safari Bandhavgarh National Park, Bandhavgarh Tour Packages, Group Tour Booking Bandhavgarh, Online Park Ticket Booking Bandhavgarh, Online Booking Bandhavgarh - We found GTV Resort Bandhavgarh is the Best from others, so we booked GTV Resort and enjoyed a Lot ...." - Anand Sengupta, Kolkata
Read more reviews >>
© Golbro Tiger View Resort (GTV Resort) 2010-23 - All Rights Reserved
Best Resulation 1366X768
Design & Developed by: Vindhya Group of Technologies